I have been asked to wear about three or four different hats for MLFS at this point. I still defend myself as a baseball writer first and foremost, but like a true football fan, when the Preseason starts to come around, the wave of Football begins to engulf me. But even from a football perspective, I have now worked through quite a few different varieties of articles for this website. The benefits of this is that, unlike a column, I am not confined to discussing the same subject on a weekly basis. The flaw however is that, also unlike a column, I feel unable to attach common threads from one article to the next.
The importance in pointing this out is that I am going to, once again, feel the need to establish the basis of the logic behind these picks.
We're not reinventing the wheel here, but if you're interested in looking at a bit of logical background, here it is. To start, as clearly stated we're dealing with "match-up" plays, which means two things right off the bat: I am unlikely to pick the MOST expensive players at their position, and I am also unlikely to pick any player that is in what would be considered a "bad" match-up. There are obviously exceptions to this rule, but the basic premise that is important here is that each player will be a combination of individual and opponent-based assessments. The specifics for these opinions then come mostly from the evaluation of teams. What is a "good" and "bad" match-up and how do we know. Obviously most fantasy players can answer the black-and-white of the question on paper, but to get into more specifics, I am looking for any data-set or piece of film that could suggest an exploitable match-up against a defense. I'm looking at injury reports, preconceived notions from prior to the season, schemes from the coaching staff, and whatever else I can get my hands on. For example, a team/match-up like the Falcons becomes more and more enticing the more defensive starters they lose to IR. Maybe eventually some of those players will step up, but in their immediate absence we have to feel pretty good about playing even a QB like Andy Dalton against the Falcons. So again, not reinventing the wheel here, but just a basic one-two of how some of these evaluations may go.
The Quarterbacks
Baker Mayfield @ Oakland Raiders
One of the first laws in fantasy is that rushing quarterbacks or quarterbacks who consistently get carries/yards on the ground can quite easily establish a high floor. The moment Baker Mayfield stepped in for Tyrod Taylor, he became interesting in season long fantasy leagues. He profiles as an accurate QB who may be able to run a simple system with his arm and feet and continue to produce at minimum a solid QB floor. Add in that Ryan Tannehill just put up a 17/23, 289 Yards, 3 TD line against the Raiders with the Dolphins as a whole compiling 18/24, 332 Yards and 4 TDs through the Air. Right now, Mayfield is being priced as closer to a mid-QB2, but against the Raiders he has a good shot at being a QB1.
Andy Dalton @ Atlanta Falcons
Every year, teams enter and exit the playoff fray. A lot of the times, one of the most important variables is simply injuries. And three games into the season, the Atlanta Falcons seem like the cursed team of 2018. The Falcons already have lost three Defensive starters to IR including two safeties and arguably the best coverage LB in the NFL in Deion Jones. The Falcons Defense has been on a Downward trajectory the last few weeks, and I think we should project that to somewhat continue based on the injuries. Meanwhile Dalton, despite a bad game last week, is a solid mid-tiered QB. And Dalton wasn't a disaster last week, as much of the blame for Dalton's INTs has been put on John Ross. He's set-up for a good game here.
Phillip Rivers v San Francisco 49ers
I'd probably like Rivers a bit more actually if Jimmy G was healthy and opposing him, but despite the relative low score I expect to see from the 49ers, I think they'll be able to move the ball enough with Kyle Shanahan and company to be competitive long enough for Rivers to get his points in this match-up. The 49ers have allowed a hair under 30 points a game so far this season, so the defensive match-up for Rivers matches up fairly well.
Russell Wilson @ Arizona Cardinals
AZ Head Coach Steve Wilks, former Defensive Backs coach under Lovie Smith and DC in Carolina, is going to dial up difficult defensive looks and pressure packages for Russell Wilson and a poor Seattle O-Line. But ultimately, Arizona's strengths are the secondary and Chandler Jones, which gives Wilson a mid-level that should hopefully allow him some rushing lanes under pressure. Wilson is one of the best QBs in football, and in the early season he isn't being sold at an elite price.
**Hail Mary Pick** CJ Beathard @ Los Angeles Chargers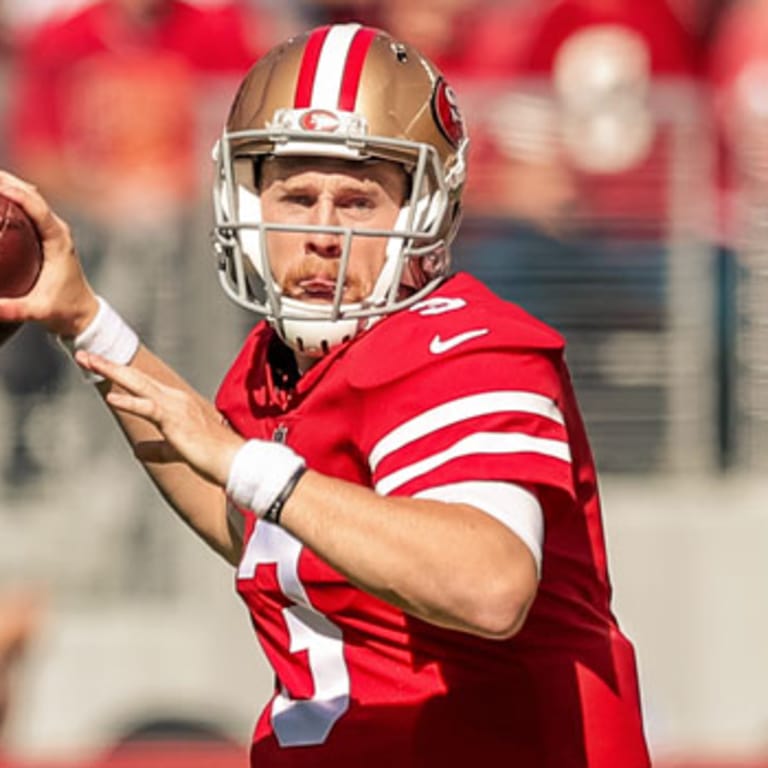 Clearly marked as a Hail Mary pick, I don't have a ton of confidence in the talent of Beathard. That said, he's got one of the best offensive minded HC/playcallers in football. He is in his second year in the system now and did earn this back-up job for a team that wants to start turning around it's fortunate with or without Jimmy G. The Chargers should put up points and put the 49ers in throw mode, and luckily fantasy leagues usually reward volume more than they punish mistakes, so Beathard is a nice high risk pick.
The Tight Ends
Trey Burton v Tampa Bay Buccaneers
Trey Burton has not returned on promises yet, and the development of the Bears offense has been slow. That said, the TE position is not one where beggars can often be choosers. If you don't have a Gronk, Kelce, Ertz, or something close, you're mostly just hoping to grab a TD. Trey Burton is actually a part of this offense. He sees the field a lot in different roles and is often schemed the Ball. He isn't going to finish the year worse than a Low-End TE1, so if he's pretty much priced there, it's all upside. The Buccaneers have given up the 31st most points against TEs so far this year in 1/2 Points PPR leagues, and Nagy has schemed in games often to target match-ups, meaning this could be a game where Burton gets a little more involved.
Austin Hooper v Cincinnati Bengals
This is just a simple case of a solid player getting paired with a solid match-up. Hooper is likely going to repeat a lot of the same numbers he had last year, and be an inconsistent player that finishes roughly at the low-end TE1 high-end TE2 range. Hooper is the TE12 on the season and the Bengals are 28th against the TE position so far this year, again by Half PPR. Playing TEs is often trying to just hit the TD lottery, and I feel like Hooper as a pretty good shot at being a hit this week.
O.J. Howard @ Chicago Bears
I'm not the biggest fan of OJ Howard for the rest of the year, at least compared to how he's performed to date, but he's performed as the 3rd best TE in Half PPR leagues and is the 13th most expensive on DK. The Bears have a great defense, but have also allowed a few broken plays to big play TEs over the last few years. On the season the Bears are 18th against the TE, as opposed to 1st against the Run. He's worth the start here.
Mark Andrews @ Pittsburgh Steelers
This is a tentative pick, and a similar Hail Mary pick to CJ Beathard. If Hayden Hurst plays for the first time this year, that could also change my mind. But statistically, the Steelers have been destroyed by the TE position each of the past two weeks, and have given up the most Half PPR points in the NFL. Andrews is a low-priced TE who could reasonably see a big Week 4.
Major League Fantasy Baseball Show Episode #167, 6/23/2019 Host Brian Roach, Jr., Co-Host Cole Freel, Guest Kevin Bzdek
Subscribe on iTunes
Major League Fantasy Baseball Show Episode #169, 8/4/2019 Host Cole Freel, Guest Joe Iannone