Ranking and drafting / mock drafting in the early off-season comes with a fair amount of variables. And while obviously the opinions of everyone in the room at your draft will continue to drive that variance, around this time of the year is when we really start to see typical snake drafts developing a bit of uniformity. Not necessarily within picks, but within Rounds players go with a fair regularity based loosely upon some combination of ADP and Website Rankings depending on what Platform you utilize.
The good thing about those early drafts though is that while you have a lot of variance, it gives you a real opportunity to see the players that you're going to like against the consensus. "Oh, the room thinks I'm crazy for just grabbing Lorenzo Cain? And then McCutchen a few rounds later? Duly noted." When you get to these late stages of the draft prep period, it isn't necessarily a Full Rankings set or Guidebook that will get you the most necessary information on draft day. Sometimes it is as simple as being able to spot the guys you like, and knowing around whereabouts you can afford to take that leap. (Though if you like the idea of a full guidebook, I do make a free one of those as well.)
With that in mind, here is my targeted advice for the Outfield Position, which I think most accurately defines the way I myself am approaching draft day.
Outfield Discount Buyer's Guide
JD Martinez (Overall #5 / OF #3) v. Aaron Judge (Overall #17 / OF #7) and Giancarlo Stanton (Overall #20 / OF #8)
I wouldn't draft Judge and Stanton OVER JD Martinez to be clear. But I see similarities in skill-sets and I love getting Judge / Stanton this year.
Unlike many comparisons in this guide, I am not actually low on the "high-value" guy whatsoever. JD Martinez is an absolute monster. He's worth a top 5 pick, and if you go by my rankings a top 4 pick. But there's two players who play in a bandbox and have crazy upside similar to JD Martinez who are going closer to the mid-to-late Second, and those players are Judge and Stanton. I have not been in too many drafts so far this year, but whether it be a Mock, a Redraft, or a Dynasty, I seem to always end up with Stanton or Judge on my teams this year. Aaron Judge seems to come with some perception of a "sophomore slump." True, his Isolated Power numbers reduced a great deal (.343 to .249), but a .249 ISO is still really strong. Other than missed time, Judge was still in line to hit 40 HRs. Similarly, Stanton didn't live up to hype moving from Miami to New York. But he did stay healthy. And another year in the City, in the AL, and perhaps even benefitting from the DH I believe has potential to put Stanton on a truly special trajectory. That should not be too shocking of a statement geared towards a player who a year ago had nearly 60 HRs and over 250 R+RBI for the Marlins. These two players are premium cost players, who need to be taken with a premium draft pick. In my opinion though, they are two of the most worth it players. Stockpile that overwhelming power with decent BAs and immense counting stats early.
Starling Marte (Overall #35 / OF #14 OF) v. Lorenzo Cain (Overall #60 / OF #19)
When drafters see this comparison, they are quick to notice that Cain is two years Marte's elder. But aging in my mind is not a concept tied directly to the physical age. I believe that some traits age better than others, and that more often than not we can see correlation between certain traits and early declines. I'm worried about Starling Marte. Yes he is ONLY 30, but he has always been a player that seems to have taken a good amount of his ability from raw athleticism. He does not take pitches or walks too often. He beats out tough pitches in the infield. And when he steals bases, he's never done so at a terrific rate. I may be making too much out of it, but that last thing is what really has me hesitating on Starling Marte this year in drafts. In his career Marte has stolen 214 Bases against 71 CSs (75.1%). This is not a very strong rate for the Pittsburgh Pirates' success. Last year that number was worse (33 of 47 / 70.2%).
In theory isn't it at least possible to say that, as a player who has never necessarily been above average at picking his spots to run, that a speed decline will have a much more drastic impact on his fantasy value? Contrast all these factors with Lorenzo Cain, who also plays in a better ball park for a better line-up. His career conversion rate is pristine (157 of 189 / 83.1%) and was equally so in 2018 (30 of 37 / 81.1%).
As a mental exercise, try dividing the skill of stealing bases into two categories: Speed, and Stolen Base ability. Marte has a ton of speed. But his stolen base ability over the course of his career based on his conversion rates have been a little lackluster for his amount of crazy speed. Which of these traits, SPEED or ABILITY, is going to Age the harshest? It is clearly the former. The ability to pick the right pitch to jump on, and the ability to jump at the right moment, are learned skills that will age slowly. Father Time treats Foot Speed harshly. And when you draft Marte, you're doing it solely for those steals. I see Red Flags. I don't see Red Flags with Cain. So I'll pass on Marte, draft Cain one round later, and feel really good about it.
Mitch Haniger (Overall #80 / Outfield #22) v. Andrew McCutchen (Overall #130 / Outfield #39)
These two players might lack some of the similarity of some of the above players in skill-set. But they are also a bit similar as well. Decent power, come with a bit of speed, and both probably get a bit of a boost in league formats that include walks. The biggest difference that most people seem to see is the age gap. The biggest difference I see is the Park / Line-up gap. Haniger was the beneficiary of players like Segura, Cano, and Cruz around him last year that are absent this year. Do I think his 180+ R+RBI's were a fluke? No. But I also have a very hard time projecting it to repeat with the current context of the Seattle Mariners line-up. On the reverse side of that, despite fantasy disappointment, Andrew McCutchen still had a solid OBP, SLG%, and wRC+ last year with San Francisco. Now he'll get to move to a park that should boost his HR total, and move into a line-up where his +OBP skills can make HIM the player that generates 180+ R+RBI or even more. McCutchen to me really is one of the dark horse candidates in the sport this year to have closer to 200 R+RBI depending on where he hits in this high level Philly Line-up.
On the speed side of things, Haniger's 8 SBs came with a fine conversion rate, and represented a career high. But I also don't feel great about the chances for much more. Haniger's never stolen more than 8 Bases in any individual level in any individual year. He has eeked out more than 8 between multiple levels before, but that was a long time ago and mostly against minor league catchers. On the other side of things, while McCutchen's age make him a question as a base stealer, he actually managed to swipe 15 Bags last year.
The reasonable expectation to me based on where we are now is that McCutchen is a better asset than Haniger in 3 of the 5 Categories. And while yes, Haniger's power may have been superior last year, I do question if there's even a gap at all in terms of 2019 projection. 20 HRs for McCutchen was disappointing, but AT&T Park (Oracle Park) is awful for generating HRs. PNC Park where he played his entire career as a Pirate is not too different. Citizens Bank is a whole heck of a lot different. There's legitimate reasons to believe that McCutchen, call it with a little sprinkle of luck if you want, has some of his better career HR totals now that he's out of a bad park.
McCutchen may be entering his post-prime, but he is not too old to perform right now in my book. I'd much rather have McCutchen.
AJ Pollock (Overall #100 / Outfield #30) v. Ramon Laureano (Overall #244 / Outfield #64)
Full disclosure, this was originally going to be Harrison Bader v. Ramon Laureano, but I felt I needed a little bit more juice on the other side of Laureano to make a good argument for him.
Both these players come with a significant kind of risk in their profile. AJ Pollock has been injured very often over the course of the past few years, while Laureano has spent most of the last few years making his way through the minor leagues. And both risks I think have legitimate chances to surface in 2019. Would it shock me if AJ Pollock battled injury all season? At this point, unfortunately not. Would it shock me if Ramon Laureano's Swing-And-Miss got him knocked back to AAA? No, I don't think I would. Though I don't expect it to happen necessarily. The point is both these profiles have risk.
I'll just give Pollock the hit tool and the BA right now. I'm as big of a Laureano fan as you will find. I think his upside in Dynasty formats is monstrous (.260 20/30) and reached for him in a Start-Up Dynasty just the other day. But he has considerable Swing-And-Miss in his game and a K% that is fairly high. And while he does combat it with a good eye, I think there is potential here for BA risk where there isn't as much with Pollock.
While Pollock has that on his side, the speed argument is starting to go the other direction. I'm concerned about Pollock's wheels and at this stage of the game (pick 100) that's supposed to be a pretty big portion of his value. Conversion% has remained high, but 13 SBs in 460 PAs puts up a bit of an alarm. And with the aforementioned injury past, there's reason to believe Pollock doesn't push it. Laureano on the other hand has real upside in my opinion in the category. He had 7 SBs in a little over a quarter of a season in 2018, and has 45 SBs on 55 Attempts (82%) in the high minors (AA-AAA). SBs are a huge point of fantasy value, so if Laureano can add a dozen SBs to Pollock's total, he can get off to a nice jump.
Laureano doesn't come with the line-up safety that Pollock does, but I believe he moves up to the top of the order by the mid-season break. This is someone who defines the lead-off position in the modern game to me. Should hit for a decent BA, but more importantly take a lot of pitches, take a lot of walks, and be able to wreck a fair amount of havoc on the base paths. He'll be at the top sooner rather than later.
Am I actually crazy enough to draft Laureano over Pollock in a redraft league? It's quite possible.
Dee Gordon (Overall #92 / OF #27) v. Greg Allen (Overall #347 / OF #87)
Alright, let's go off the deep end a bit.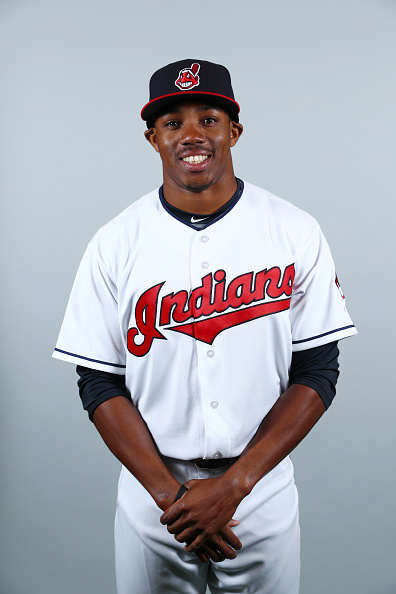 I hate Dee Gordon this year. It's widely known. I've written about it a lot if you follow my work. Dee Gordon's value is one category, and always has been. Do we even have faith that it can continue to be to such a great extent this year? Because when Mallex Smith is healthy, Dee Gordon is and should be batting 9th. And if you think you hated owning Dee Gordon's HR/RBI drag before, welcome to the world where he loses 120 PAs in a season alongside 20% of his R production. Not to mention the fact that you increase the odds of the bases in front of him being plugged a great deal.
And then can we even feel super confident about the speed? He's getting older. I'm not saying he can't do it forever, but Father Time does seem to always rack of the victories eventually. It's not about becoming slow. It's just about simply losing a step. It's about repeating in the 30-40 range instead of the 60 Range, where he is a true outlier. And I don't like bad eye hitters as they get over 30 either.
On the opposite end of the spectrum, if you're getting deep into a draft after passing on Dee Gordon and feel light on speed, Greg Allen is just sitting there. He stole 21 Bags last year, and while he doesn't have Gordon's speed, he also doesn't have Gordon's price tag. Allen was a good walker in stages of the minor leagues, so even if his BA never gets to Gordon's range, his OBP could keep him in the line-up, bump his Runs, and give him the opportunity to steal. And while he's no Joey Gallo, a 36+% Hard Contact% for Greg Allen alongside decent minor league ISOs leave the impression that he can be a .100+ ISO player at the MLB level, which would make him likely less of a drag in RBIs then Dee Gordon.
This one I am crazy enough to do. I think people are crazy for wanting Dee Gordon in the top 100. I'm staying far, far away. If I'm wrong, so be it. Hopefully I'm not wrong about the speedster I do draft. But no part of me, in any format, in any way, whatsoever, what's Dee Gordon.
Other Outfield Values:
Justin Upton and Yasiel Puig are going towards the end of the top 100. Both are preferred OF2 options for me. Puig has real 30/20 upside in Cincinnati and Justin Upton's a Steady Eddy that gets knocked perhaps for being too boring (though his year-in fluctuations will drive you wild). Upton was a 100/100 bat just a year ago, and somewhere in that 170-200 R+RBI range with 30 HRs and 8-12 SBs all seem likely for Upton.
Austin Meadows and Nick Senzel are the young guys people DON'T want, which are always way more fun than the young guys everyone DOES want, because you can get them way cheaper, with far more potential upside. Nick Senzel's draft stock will be on the rise, so keep an eye out for that. And he's not officially an OFer yet. But all signs point to the fact that, if he's not the Opening Day CF, he's close. Meadows already has a job, and maybe it is just being in Tampa, but people don't want to buy into a very intriguing across-the-board skill-set apparently. It is probably the lack of Plus Power or Plus Speed, but Meadows can do it all and I have no worries about him playing everyday. Kyle Tucker and Alex Verdugo are the young guy fliers that are more "fairly" priced for their lack of job, but their potential gives them value in numerous formats.
Greg Allen is spoken for above, but how about similarly ranked Kevin Kiermaier as a late SB player? I've overhyped Kevin Kiermaier two years running, and won't make that mistake a third time this year. But that's mainly due to his fragility. At his current price, he's an end of draft SB option that is all upside and practically zero cost.
Franmil Reyes does not necessarily have a job. But all accounts point to him being someone that San Diego absolutely loves the potential of. I actually like Hunter Renfroe too. If something like a Myers trade were to happen, I could see a Bold Prediction of 60-70 HRs between Renfroe and Reyes being thrown out there. As is, we can't be confident in Reyes having 2019 redraft value. But we can be confident that taking a shot on seeing how things go early won't cost too much. Reyes is a potentially high-level power sleeper if you feel that you're falling behind in that category, and are looking to the OF for help. Renfroe has similar merits, though his approach does create the vision of a disastrous crash.
---
Major League Fantasy Baseball Radio Show: Join host Cole Freel live on Sunday March 10th, 2019 from 8-9:45pm EST for episode #144 of Major League Fantasy Baseball Radio. We are a live broadcast that will take callers at 323-870-4395 . Press 1 to speak with the host. You can listen live on blogtalk, majorleaguefantasysports.com, or download the podcast on I-Tunes or any Android podcast app. Our topic this week is the Outfield for fantasy purposes.
Our guests this week are Joe Iannone and Bilal Chaudry. Joe is a writer for majorleaguefantasysports.com and his articles publish every Sunday. Bilal is the 2-time defending MLFBC champion and a frequent radio guest.
Major League Fantasy Baseball Radio Show: Join host Brian Roach, Jr, and Cole Freel live on Sunday March 17th, 2019 from 8-9:45pm EST for episode #145 of Major League Fantasy Baseball Radio. We are a live broadcast that will take callers at 323-870-4395. Press 1 to speak with the host. You can listen live on blogtalk, majorleaguefantasysports.com, or download the podcast on I-Tunes or any Android podcast app. Our topic this week is Bullpens and Catchers.
Major League Fantasy Baseball Show Episode #167, 6/23/2019 Host Brian Roach, Jr., Co-Host Cole Freel, Guest Kevin Bzdek
Subscribe on iTunes
Major League Fantasy Baseball Show Episode #169, 8/4/2019 Host Cole Freel, Guest Joe Iannone